Keep the Equipment and Docks Running
Concrete repair that doesn't slow down your operation.
Bumps and hits are going to happen, even with the most careful forklift and truck operators. The damage leads to hazardous conditions that put employee safety and product quality at risk. Employees face trips and falls due to concrete surface damage. Materials fall off forklifts operating on uneven surfaces.
With Commercial Concrete Solutions, there's a way to quickly repair concrete surfaces, so you can minimize work comp claims and unscheduled equipment maintenance due to rough surfaces. And it can be done without shutting down since our process lets you return to service in as few as 15 minutes after the repair is complete.
---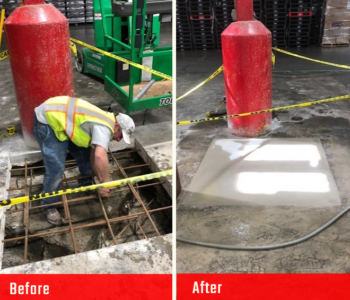 Heartland Coca Cola Distribution Center purchased a new piece of equipment and it required a new concrete slab with very detailed specifications. The repair technicians at CCS tore out and replaced the concrete using a specific mix of concrete that reached 3,000 PSI in just 1 day meeting their requirements. Normal high early concrete would take at least 3 days to reach 3,000 PSI. We accommodated the customers operating schedule by tearing out the area at night and pouring back the area the next morning.
Industry:
Industrial
,
Warehouse
| Repairs:
Equipment Pad
---
---
---
---
---
Have questions about repairing concrete for your facility?