Keep the Equipment and Docks Running
Concrete repair that doesn't slow down your operation.
Bumps and hits are going to happen, even with the most careful forklift and truck operators. The damage leads to hazardous conditions that put employee safety and product quality at risk. Employees face trips and falls due to concrete surface damage. Materials fall off forklifts operating on uneven surfaces.
With Commercial Concrete Solutions, there's a way to quickly repair concrete surfaces, so you can minimize work comp claims and unscheduled equipment maintenance due to rough surfaces. And it can be done without shutting down since our process lets you return to service in as few as 15 minutes after the repair is complete.
---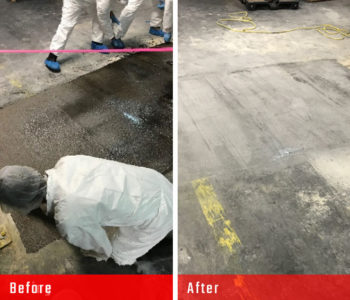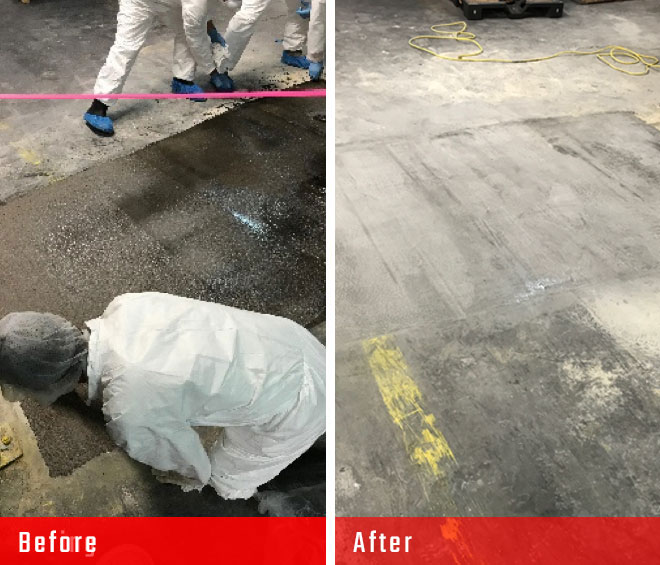 Sulfuric acid is a dangerous chemical capable of corroding skin, paper, metal, and yes, even concrete. Exide Technologies' flooring had become this colorless, oily, liquid chemical's victim, causing cracks and spalls along the indoor tour route. The solution was to repair the damage with an acid-resistant product. Easy enough, but downtime isn't an option for Exide Technologies, a lead-acid battery manufacturer that supplies automotive and industrial industries. Rather than interrupting their manufacturing, the CCS team performed the repair during the plant's scheduled shut down at the holidays. What wasn't easy was Exide Technologies' environmental conditions – acidic with temperatures approaching the 100-degree Fahrenheit mark.
Project Time – 1 week
Industry:
Warehouse
| Repairs:
Spall Repair
---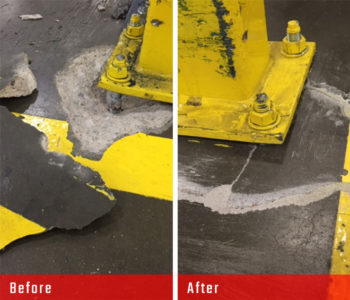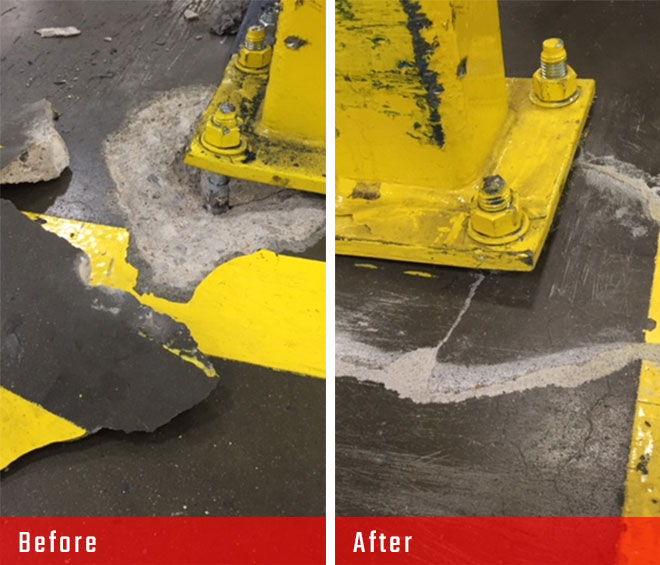 In a battle between forklift and bollard at Piston Automotive, the forklift won. In fact, it knocked over the bollard. CCS was called in for a concrete foundation repair that would be strong enough to hold the bollard upright again and regain structural integrity. Nothing can slow down manufacturing and warehouse industry, and it's difficult to repair forklift-related damage to concrete. CCS performed the repair in just 30 minutes, and it was ready for forklift traffic in just 15 minutes. The bollard is solid, ready to take on the next bump.
"I have been in the maintenance industry for 25 years, and could never find a product that I could repair concrete from forklift damage, then I found the Pro Choice concrete patch, which works better than anything I have ever tried, and is fast drying, which is a must in the manufacturing industry. I will never use anything else again, thank you."
Tom Wenzel, Piston Automotive
Project Time – 30 minutes
Industry:
Warehouse
| Repairs:
Bollard Repair
,
Forklift Railing & Bollard Repair
---
Have questions about repairing concrete for your facility?